When I had a layover in Istanbul last year, I decided to head to the tourist center and see as much as I could in eight hours. I looked decidedly foreign, twisting a map around and trying to orientate myself before choosing a metro line. An older gentleman approached me, and said that he was headed down to his carpet selling business that was right in that district. He seemed nice, and there were plenty of people around, so I decided to trust him.
After feeding me delicious Turkish cuisine, showing me around, cutting to the front of lines of tourists, he talked me into buying a handmade carpet from him. In Turkish and Persian culture, buying a rug is buying an investment, like gold. A quality rug that is large enough to fit under the dining room table will cost several thousand euros. And fine rug collectors are like fine art collectors. The more you know about the history, the age, the quality of the knots and materials, the upkeep, the higher the resale value. But ideally, you won't resell your rug. You will keep it in the family and pass it down to your children for many generations. I bought a smaller, mid-range carpet that I could actually see myself using. I liked the colors and the way that it was purposefully woven with slits in the design.
When I got home, I tried to research more about my carpet. I wasn't able to figure out much, but it made me more aware of the history and regions of Turkey. Even with skimming through articles on Wikipedia, and reading about the history of stories that are commonly woven into carpets, I still didn't have a grasp on how historical events are currently affecting contemporary society. When I read the description of
Orhan's Inheritance
, I was immediately interested in the book. It's set in Turkey, and explores some of Turkey's more recent history.
Orhan is a young man whose grandfather recently passed away. The grandfather willed the family business to Orhan, bypassing Orhan's father, and left the family property to Seda, a woman that no one had ever heard of before. Orhan decides to go track this woman down and find out why she gets the property.
The story goes back and forth between WWI-era Turkey, following Seda's narrative, and present-day with Orhan. It's a beautifully woven tale that humanizes the politics of the time to show how it affected an average village in Turkey.
Seda is Armenian, and as such, is Christian. Armenians are a minority people-group in Turkey, and her family were the minority in a primarily Turkish-Muslim town. During this time, Turkey was undergoing political and cultural turmoil, which contributed to the start and execution of an ethnic cleansing. The Armenian people were the target.
Men were killed or taken to forced labor camps. Women, children, and the elderly, were led on death marches to concentration camps in the Syrian desert. Seda and her family suffer this.
As dense, heavy, and sorrowful as it is, the author, Aline Ohanesian, does a wonderful job of providing hope to the reader through Seda's story. Though she loses track of faith, of God, of values and innocence, Seda doesn't lose her will to live.
My historical education was less than stellar, so the Armenian Genocide was completely new for me. The Turkish government still denies the existence of the genocide. Ohanesian addresses the struggle that some of the Armenian diaspora are still grappling with today - how do we process through our mourning as a people if our offender still refuses to even acknowledge its sin?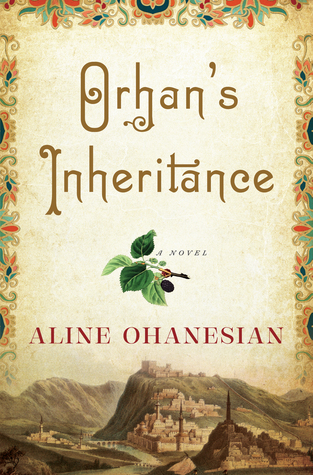 It's a difficult question to answer. Orhan's Inheritance recognizes and educates readers about the atrocities that were committed. It brings peace to history because its characters reach peace with it. Gracefully, thoughtfully, delicately, the author knits together a tapestry that gives value to all Turkish people. Is this not what art is for?
I got a free e-ARC of this book, but that in no way affected my honest thoughts about it. The expected publication date is April 7, 2015, by Algonquin Books.
Update: For further reading, here's a NYT profile of Yasar Kemal that recommends a couple of his books:
Yasar Kemal, Master Turkish Novelist and Strident Political Critic, Is Dead