I challenged myself to read 100 books in 2017. Last year when I challenged myself to read 52, I didn't think that I would actually read that many. I want to read 52 books every year, but I don't really care too much if I complete that amount or not—the page count varies so much in the types of books that I like to read that reading a full 52 books doesn't matter much to me. Consequently, I had never done it before. But in 2016, I surpassed my goal by some 40 books! And I read a wider range of things than ever. I was purposefully seeking out books by foreign and minority authors (in addition to reading whatever caught my fancy at the moment).
All this to say, I'm going to continue reading a lot of books this year, and I think I can read at least 100.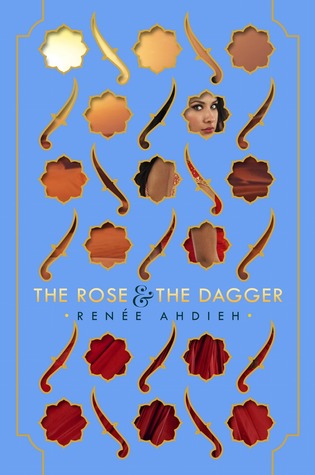 The Rose & the Dagger by Renee Ahdieh
This is the second and final book (the first is The Wrath & the Dawn) in a romantic, dramatic, adventurous and beautiful take on One Thousand and One Nights. This book started out slow, but picked up the pace to tie up all the loose ends. It's kinda fun reading a duology instead of a trilogy! Actually, there are quite a few "alternate" chapters and storylines available as ebooks, but as much as I enjoyed reading this book, I was satisfied when it ended. It didn't hit me as one of those "Aaahh I never want this universe to end!" books where you feel sad and a bit down for a week after you finish the book. I've read a few retellings of One Thousand and One Nights in the past couple years, but have never read the original. I guess with the live-action Aladdin coming out soon, it's going to be popular to read, so I should get on that.
The Perks of Being a Wallflower by Stephen Chbosky
I've started watching Gilmore Girls and though I had never seen an episode before last month, I always knew that Rory and I had a lot in common. I've taken a glance through
Rory's reading list
, and we have similar tastes… meaning we read everything. What surprised me was how many of the books on her list that I have already read, and that made me want to read all the rest. I really love checking things off the list. So that's why I read The Perks of Being a Wallflower. That, and I've heard of this book my whole life but had no idea what it was about.
If you like reading about precocious teenage boys (they're so adorable), you'll probably like this epistolary/diaristic book. The first part of the book comes across as advice for teenage readers that barely hides the fact that the adult author is trying to make the book a guide for any possible problem that a teenager could confront. But if you stick with it, the story develops and the preaching becomes more subtle. The characters face all kinds of heavy situations: drugs and alcohol as coping/self-medicating, abortion, rape, physical and sexual abuse, discovering sexuality in all kinds of ways, etc. If you're a teen, it would be good to have an adult read it at the same time so you two could talk about it.
Though one of my favorite parts of the book is kind of preachy: Sam and Charlie have a heart-to-heart about what they think and the expectations they have regarding each other. It's a really sweet and honest moment, but Sam confronts Charlie on what friendship really is—friendship is not going along and "being there" for everything your friend is doing. It's confronting and telling your friends No if they are doing something that is not healthy. A good lesson for all of us.