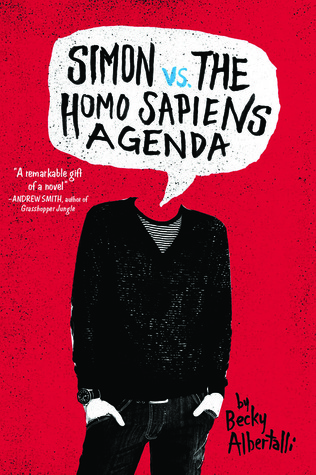 After millions of people told me to read
Simon vs. the Homo Sapiens Agenda
, I have finally read it and can now join the masses in insisting that you should read it, too!
The wait list at my library for an ebook of Simon is many months too long. But while vacationing and checking out the new-to-me Vista Grande library in my hometown of Casa Grande, Arizona, I spied Simon there, clean and new and untouched, waiting for me to read it. Which I did in less than 24 hours. I fangirled to the poor circulation desk librarian about how these days all I read are ebooks and I really miss reading on paper and how the stack of books I grabbed have an endless wait list and are OMG popular. He seemed a bit surprised and not in on the world of YA fandom.
When I was younger in Casa Grande, I volunteered at the library, and my 'boss' was the children's and youth librarian (who I now realize was a liberal gal who took a job in a small, conservative agricultural community). I really am grateful for the things she taught me and the experiences I had because of her. I think that if I got my master's, it would be in library science with the goal of doing youth programming. Anyways, it's symbolic to me that I was reading this book while being back in my home town, with my younger sister reading over my shoulder.
Simon is a teenage boy who is busy dealing with the drama of typical high school days and navigating just how exactly he should come out.
Not only is the plot well designed, but because author Becky Albertalli is a practicing child psychologist, the characters feel incredibly realistic and authentic. It didn't read at all like an adult trying to use teenage jargon—it came across as a teenager using teenisms (which may make the book have a shorter shelf-life than normal, but it's perfect for the moment).
Again, the author is a genius. She deliberately links emotions and physical actions to show that what someone is doing on the outside is a result of something going on on the inside, and those inside things are totally, completely normal. For example, at one point in the story, Simon is upset and having a conversation at the same time. After a moment, he realizes that he is yelling and he feels embarrassed about having a hard time controlling his voice level. It's these types of details that separate believable YA from adults-writing-to-kids YA.
Simon's fears and concerns are just so relatable. He talks about wanting to keep even small things as a secret from his family (really small: he started drinking coffee), because they turn everything into a big deal. I still do that! And in a completely non-preachy scene near the end of the book, Simon's mom explains that as a parent, every new development is an amazing and exciting change, no matter how small. Like new moms posting with way too much TMI on Facebook, moms of teenagers are just as excited.
I wish I had read this book when I was younger, for the sake of realizing how normal my family and feelings really are. While I was reading it, I imagined myself as a youth librarian, recommending this book to someone and it changing their world so that they would remember it years later, even if they never talked to anyone else about it.