I was so pleased to be able to join the Social Justice Book Club (
#SJBC
) started by Kerry at
Entomology of a Bookworm
, Shannon at
River City Reading
, and Shaina at
Shaina Reads
. I worked on the social justice team at Girl Scouts of Southern Arizona for a year, and before that I was interested in lots of forms of social justice (particularly sex trafficking). Though I had attended conferences and read a lot about human trafficking and fair trade, I knew next to nothing about injustice and excessive punishment within the US judicial system before I read our first club pick,
Just Mercy
.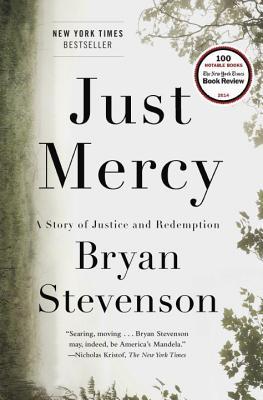 The author Bryan Stevenson works as a lawyer servicing those who have been wrongly-convicted, received prejudiced trials, are on death row, were children tried as adults, and others who have grossly unjust sentences. Serial and Making a Murderer are not anomalies, and if you wanted to learn more after listening/watching those series, I recommend you read Just Mercy. It too focuses a lot on specific people and their case histories rather than on facts, statistics, or legal history of the judicial system (though it does relevantly sprinkle those things in). It's well-written, engaging, honest, and eye-opening.
I've been against the death penalty for such a long time, for the exact reason that one person brings up in the book. Death should be on "God's timing," and who are we to decide that for Him? So I agreed with the author from the start on that point. But this led me to wonder about and question the fairness of routine punishments that weren't mentioned much in the book.
What is a crime worth? Just totally guessing with zero research whatsoever here:
Let's say someone robbed $500 worth of things from a home when no one was present, and then they got caught later that day.
So then let's imagine that two police officers spent 8 hours each working to catch the thief. What's that, $1,000 for taxpayers?
The thief pleads guilty to aggravated burglary, so there is processing and sentencing that a judge and court aids need to work on, but no lawyers or public defenders need to touch it. I can't imagine that would cost more than $1,000 worth of time.
Our total is now
$2,500
that the thief needs to repay with time. I'm excluding the costs of maintaining prisoners in prison. I'm just imagining that the thief needs to be in prison for the equivalent amount of hours of "minimum wage".
$2,500 divided by $7.50 = 333 hours
333 hours divided by 8 hours per day = 42 days
42 days divided by a standard workweek of five days = 8.3 weeks, or roughly two months
Not very long, especially if you want to "teach them a lesson." So let's say you tripled that punishment time to six months. Is six months enough time to pay for $500 + $2000 in legal costs?
Looking at ancient
Judaic punishments
, we have some variances for the crime of stealing. The punishment for stealing $500 would be:
Four or five times the amount stolen = $2,000 or $2,500
Double = $1,000
An eye for an eye = $500
I often think that Biblical punishments were way too harsh. Capital punishment was all over the place. But compared to
Arizona
and the
UK
, where the absolute minimum sentencing time for aggravated burglary (stealing from a residence) is
1 year
, it's our punishments that seem way too harsh.
Would it be fair to have six months in prison for 24 hours per day, plus 6 months of sleeping in prison at night (like a transitionary parole time)? Or a
Nordic prison system
for non-violent crimes?
When I got to work with
girls inside of the juvenile detention center
in Pima County, I was surprised by how good it was and how caring the guards appeared to be. But at the same time, this place of punishment was mainly used to keep the girls safe from the outside world of physical, sexual, and substance abuse. Although I believe law enforcement and the judicial system in Southern Arizona are better educated now due to the work of community-led advocacy and outreach groups, it is still ridiculous to give kids a rap sheet because the state has no where else to put them.
That line of thought extends to adult prisoners as well. Sure, changing the US prison system to focus more on rehabilitation would involve a complete overhaul that will cost billions of dollars upfront to convert buildings, create new programs, train staff, review old cases, etc. But isn't it worth it?
Get Involved
"You can't understand most of the important things from a distance. You have to get close."
One of the biggest problems after learning about something you want to change is answering the question, "What now?"
Brian Stevenson's organization, EJI, has some ideas for how to get involved.
Start your own book club with books related to mass incarceration and the prison industrial complex.
Become pen pals with someone in prison. This will brighten someone's day, encourage them, help their transition back into society, and restore humanity. Black & Pink is a pretty radical advocacy organization that has great resources related to this. Another good site would be Write a Prisoner.
Serve on a foster care review board. I'm not sure how it works in all states, but in Arizona, people who have had their kids taken away can voluntarily sign up for being a part of the foster care review board system. They are entitled to extra benefits, but also may have extra program requirements to meet that will give them greater structure to get back on their feet. Board volunteers review cases and make recommendations to the court.
Get trained in mental health first aid. I did it a few years ago and it is amazing at giving practical tools and training to reduce fear and stigmas around people going through a mental health crisis. This alone could help keep lots of people out of prisons. The more people who go through the program, the more widely available it will become.
Contact your state's Justice Project and see if they need an office volunteer or someone to lead community outreach projects.
— Kerry McHugh (@kerryamchugh) April 22, 2016