If you have ever been interested in learning more about the process of writing, perhaps learn some tips about how to braid parts of a story together, or maybe have your hand held along the way, and you expressed that desire aloud or maybe on the internet, someone somewhere has probably referred you to
Bird by Bird
by Anne Lamott.
This book has been on my radar for years, and I was in line on the waitlist at my library for years, so that culminated in me getting to read the book for the first time this month.
My preconception of the book was that it would be fairly serious and detailed, but in an interesting way. I didn't really know how it would go about teaching me how to write better, but I just assumed that it would. I think I picked up this notion from the rather academic-looking cover and the way that other people revere this book as the go-to thing for writers in search of direction.
It's really not a book about practical advice for NaNoWriMo. There are many very good how-to's and roadmaps available online for that. It doesn't give advice about common structural pitfalls and how to correct them, ways to write realistic characters, things to think about when constructing fantasy worlds, or how to finish a personal memoir essay with a snappy and relatable ending. But it is a book full of encouragement to start writing, and more importantly, to finish what you've started.
Lamott repeats herself a lot: Write a first draft, no matter how bad it is, because it is only by writing the first draft that you are able to arrive at a better second draft. If you are facing writer's block, go do something else for a while to fill yourself back up with fuel. Keep index cards handy to jot down ideas and quotes. Form a habit of writing a little bit every day. And write about your childhood.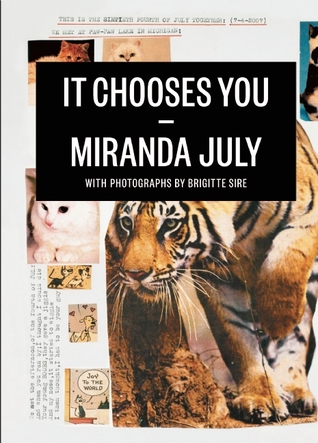 The day after I finished reading Bird by Bird, I read
It Chooses You
by Miranda July.
I have been following July's career for years, and I am fascinated and awed by how she views the world. She is able to turn the most mundane things into something interesting, important, and magical. She's openly Proustian in the way that she actively looks for secret messages or symbols in her interactions with the world around her, and when you absorb any of her work you are left with the feeling that you too can be a creative person if you just pay attention to the messages. It Chooses You is more of that magic.
July is writing the screenplay for her film The Future, and she is stuck. Not only does she have plot and procrastination problems (I'm not immune! I'm just pointing out that she also is not immune), but she has a dread finishing the project because of all the things that will come next. So she devises a project that will solve so many of her problems at once: It will give her ideas for her movie (like Lamott says to do), she will feel productive instead of like she is procrastinating, and it will help her avoid having to work on writing.
During the height of the Great Recession, July contacts people who place free classified ads in the PennySaver and asks them if they would be willing to let her interview them and her friend
Brigitte Sire
to take photos. The people who agreed to this are unique and um… special. The book, It Chooses You, is the documentation of the interviews, the photos, and how each person helped July in her process of finishing what she started.
At first I couldn't tell if it was all staged or not. The photos looked like sets sometimes, the people were perhaps actors. That's a lot of what Miranda July does. She stages performances or interactions that blur the lines between what is real and what is performance art. See, for example, this video on
how to make buttons
. In her writing it's much harder to see what is true and what is merely inspired by what is true. It wasn't until I reached the final character's story that I believed it as all real. He convinced me because this character makes it into the movie, The Future, playing himself.
See Also
An excerpt of the book featured in The New Yorker
My 10 Favorite Books: Miranda July
A review of It Chooses You by Head Into the Heavens