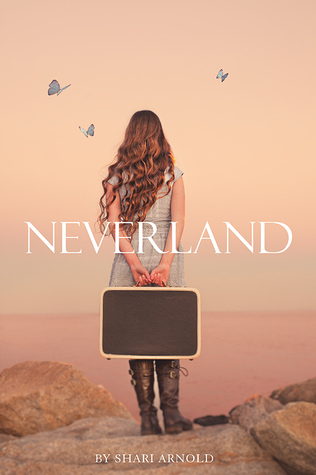 Besides being the cover-whore that I am, I love the tease of a retelling.
Neverland
, by Shari Arnold, was just too much bait rolled into one package for me to resist. At the same time, it's a self-published book, and I'm still in the middle of confronting my prejudices about those.
Neverland was able to meet me where I was at, and far exceeded my expectations. The editing was spot on, the structure was well-developed, and the idea was interesting—a contemporary Peter Pan told from Wendy's point of view.
Wendy in this book is named Livy, and she is in the midst of grieving over her younger sister who had lost the fight against cancer. Everyone in her family is still grieving, actually, and they are expressing it in different ways. Her father is socially unresponsive, and her mother is busy trying to pretend that everything is fine by throwing herself even further into her career. I was impressed by how they show different sides to their grief, and how its complexity was revealed even in the mechanics of the storytelling.
It was fun to hunt for familiar characters—Peter Pan, Captain Hook—but even more fun to realize that their story isn't as black and white as I remembered from childhood. For example, in this story Captain Hook is a quasi Grim Reaper character, but is passing from this life to an unknown (and potentially better) life such a terrible thing?
Perhaps one of the best things this book speaks to is romantic relationships. Okay, yeah, sometimes the teenage girls sound more like moms of teenage girls ('Stalkers are only sexy in the movies.'), but I think it's nice that they are able to set some real ground-rules for what a normal dating relationship should be (especially with all the examples of harmful dating relationships that teenagers/new adults are eating up these days). The
characters aren't there to preach
, however. They do make bad decisions, and express real, authentic insecurities. I think the self-doubts were the most therapeutic parts of the book, because when you read them you realize that you are not alone with those doubts. And by seeing you are not alone, you can begin to see doubts for what they really are: just a story we tell ourselves.
Note: I got an e-copy of this book in exchange for an honest review. That of course didn't affect my opinion of the book.